If unsure of sizing? Trace your foot with socks and put measurements from the largest toe to the back of the heel.
Tracings can be emailed to [email protected] or faxed to +1(914) 662-1224.
Some dancers prefer different comfort levels with fitting. Please see the inbox below with different size choices depending on how snug you like your shoes. Please remember that shoes will stretch over time, and you will have better control with a snug shoe.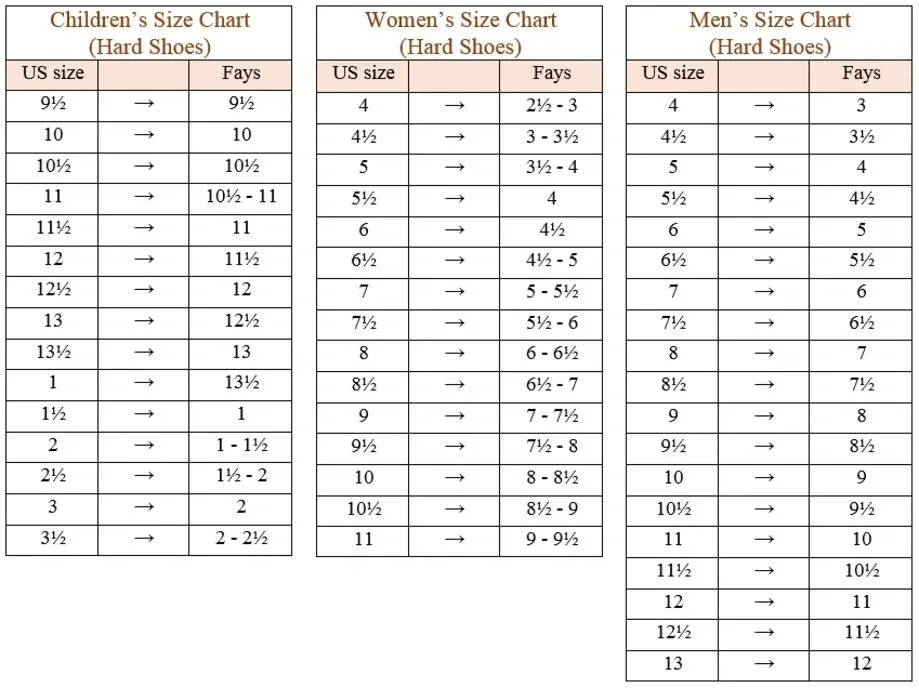 Ordering Soft Shoes (Ghillies)
You should order a half size smaller from hard shoe sizing as these need to be snug for getting good points and arch. Soft shoes will stretch more than hard shoes.
You should order 1.5 or 2 sizes bigger from your hard shoe sizing. Please keep in mind that these shoes will stretch and need to be snug to get good arches.
Fays conversion charts are intended to be used as a guide to help you. Sizes are an estimate on what Irish size to order. Many factors can affect the sizing of shoes, such as width and instep. No guarantees can be made. Please remember Irish Dance shoes are made of leather and are likely to stretch.
Consult your teacher for help in picking the correct size.